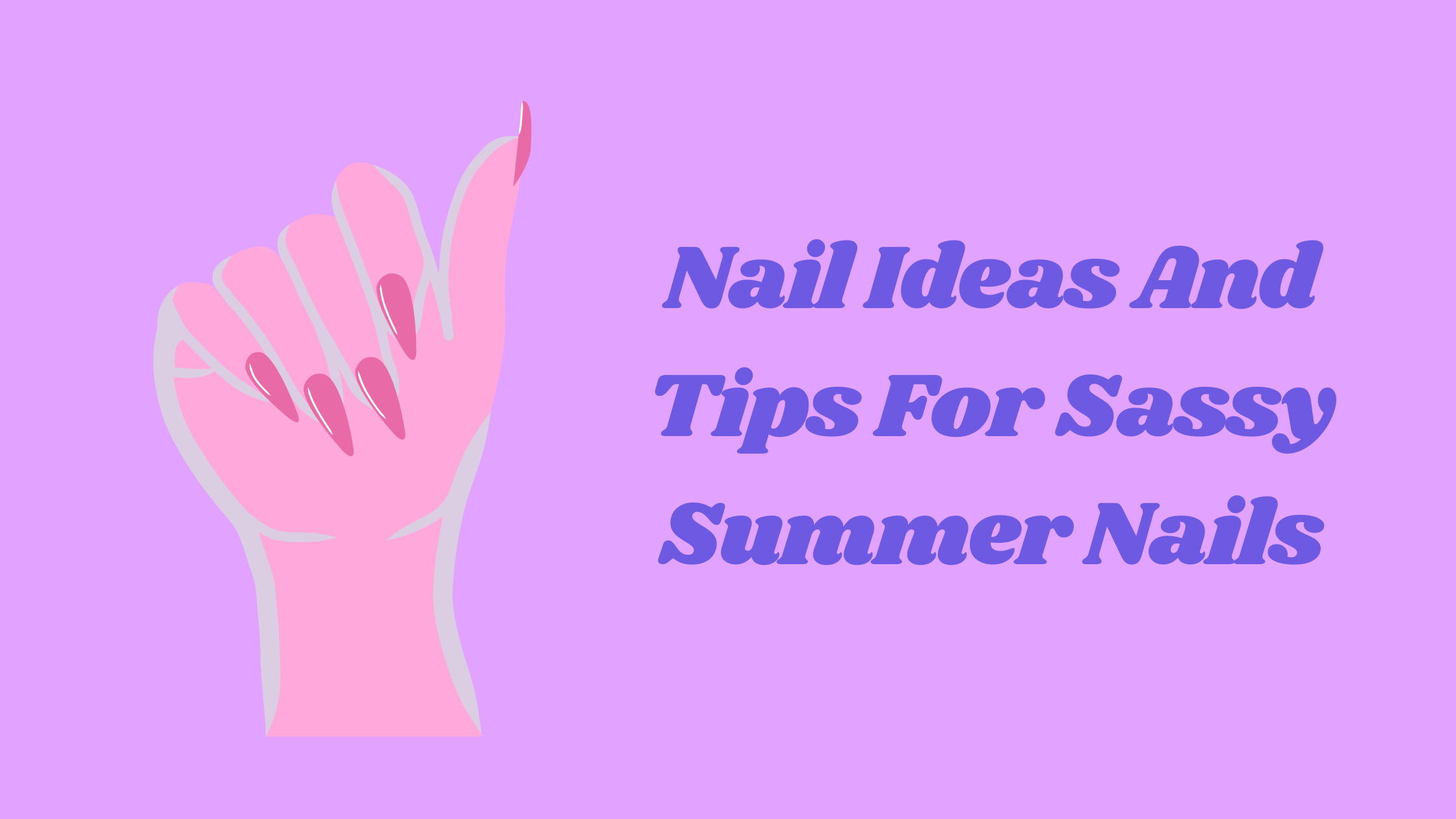 Summer is the perfect time to show off your sassy nail art. Are you stuck looking for trendy nail ideas for summer? 
In this article, we show some of the hottest nail ideas for sassy summer nails. As well we gathered tips from professional nail artists. 
Tips For Nail Care And Nail Ideas
Below you find tips for nail care and nail ideas: 
Play Around With Color
Need to expand your polish collection but don't have time to run to the beauty store? Freshen up your existing colors by layering various shades on top of each other. Experiment by mixing and matching your favorite colors on an art pallet. Remember to apply opaque shades prop to sheer shades for the perfect blend. 
Experiment With Tinted Nail Art
Tinted nails are one of the most inspiring nail art ideas this summer. All you need to do is combine a nude topcoat with a bold color for the perfect tint. Stained-glass nails are especially stunning for summer nails. 
Use Neon Shades To Make Your Summer Mani Pop
French manicures are always a favorite. Why not use a neon shade as the tip or base to make your manicure or pedicure pop? 
Sass It Up With Sugared Nail Art
One of the trendiest nail ideas this summer is sugared nails. And no, we're not talking about sprinkling literal sugar on your nails. Rather, sprinkle glitter into your favorite uncured polish. Do this after your gel base coat is fully dry. Remove the excess using a clean brush. Finish off the look by curing the gel polish. 
Sassy, Shiny Nails For The Win
Do you prefer a classic or simple manicure but want to jazz up your nail design? How about using some DIY glitter? Mix a topcoat with glitter or sparkles to create your own homemade glitter nail polish! Mix the topcoat and loose glitter or sparkles on a nail art pallet and use a flat brush to apply.  
Create Ombre Nails Using A Sponge
Ombre nail art is super hot this summer. Paint your base with the lightest shade of nail polish. Use a toothpick to swirl together the other two color shades on an art pallet. Gently dab a sponge into the mixture and apply it to the tips in a blotting effect.  
Glam Up Your Coffin Nails With Jewels
Coffin nails are not for the faint of heart. If you love coffin nails, why not add some glam with studded jewels and gems? 
Beachy Nails For A Seaside Holiday
Headed to the beach this summer? How about some super cute ocean-themed nails? Sunsets, anchors, fish, seahorses, mermaids…the nail ideas for beach nail designs are endless! 
Summer Swirls
Swirled nails are adorable for summer fun! Apply 2 colors on each side of your nail and use a toothpick to create a swirly effect. Combine light and dark shades for a bold effect. 
Pretty Pastel Nails
Not sure you want to go bold and bright? Pastel hues are perfect for summer shades as well as a classic manicure. 
Tips for DIY Nail Art
Thin out your nail polish to keep it from clumping. Add a few drops of nail polish thinner to your nail polish to freshen it up for your

summer nail ideas

.

 

Don't pick at your cuticles. While it might be tempting to pick off that hangnail, it causes more damage to your nails and skin.

 

Maintain a healthy diet. Eat foods that are high in vitamins, antioxidants, and nutrients. A good diet is the key to good hair and nail health.

 

Apply cuticle oil every day. Cuticle oil will protect your nails, cuticles, and hands. As well it helps to preserve your manicure and promotes nail growth.

 

Use sunscreen regularly to protect your nails. Your nails suffer from sun damage, just like your skin. Apply sunscreen to your hands anytime you are outside for prolonged periods of time.

 

Give your nails a break. We all want our nails to look gorgeous all summer long. However, we need to give our nails a chance to breathe. Have your gel or acrylic nails removed, or give your natural nails a chance to breathe every few weeks to promote good nail health and prevent infection.